Top 5 Best Black Female Friendships in Television History
Who's your favorite?
"In My Skin" readers, I was sick last week, so forgive the lack of content.
During my cabin fever, I watched a marathon of Sex and the City - all 6 seasons. I've always loved the dynamics of Carrie, Samantha, Miranda and Charlotte's friendships. I've even adapted some of their practices into my own girlfriend circle—my fave: getting together for margaritas (instead of cosmos).
I know a lot of females who reference Sex and the City as their ideal TV image of what "true" friendship is. Like the saying, "Good friends are hard to come by," it's just as hard to see Black women's friendships portrayed on TV. Heck, it's hard keeping a Black sitcom running on air without the network pulling the plug.
But there have been some great representations in TV land throughout the years, not many, but still great. Here's my list of top five best portrayals of black women friendships in a sitcom. (Man, I miss the days of scripted TV where the characters were multi-dimensional.)
[ALSO READ: 10 Best Black Couples on Television]
Gina and Pam, Martin
Their friendship was by far one of my favorites on TV. They were the ultimate "besties." Gina and Pam managed to stay close friends despite Pam's dislike for Martin, and vice versa (unlike Basketball Wives' Jen and Evelyn). What I loved most about Gina is that she never let her relationship with Martin keep her from spending time with her homegirl Pam. Gina balanced both relationships—something a lot of women seem unable to do. On the other hand, Pam supported Gina. When Gina left Martin for a brief moment, Pam's door was open. When she decided to get back together with Martin, Pam never put her girl down for her decision. The best thing about their friendship is that it transcended off screen, as well. They were competitive, however, especially when it came to singing. Watch when Gina and Pam compete to become rapper Biggie's background singers.
Khadijah, Synclaire, Regina and Maxine, Living Single
Living Single was a hilarious and down-to-earth portrayal of a group of African-American friends (including Obie and Kyle) living in a Brooklyn brownstone as they pursued love and professional endeavors. They were the urban "Friends." The ladies - Khadijah, Synclaire, Regina and Maxine - were as different as night and day but despite their personalities, they managed to form friendships that entertained us for 5 seasons. I always imagined having a similar living arrangement with my best girlfriends; but in reality, living with friends does not always work. The best part about their union: they could always find a good laugh out of each other's dating stories.
Joan, Toni, Maya and Lynn, Girlfriends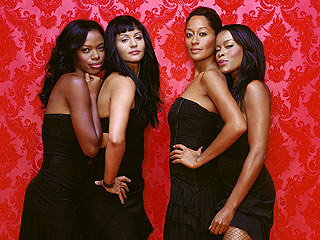 Girlfriends was considered the African-American version of Sex and the City, except for that there was much, much more drama between the 4 ladies. At the center of it all were childhood friends Joan and Toni. It could be debated that their relationship was unhealthy and that it portrayed all the negative stereotypes of black women friendships - especially when Toni slept with Joan's man in season 1 - but I think their relationship was necessary to see. It highlighted the complexities of a long-term friendship. I tuned in every week to watch Joan, Toni, Maya and Lynn tackle life changes in relationships and careers. The 4 would sit on Joan's coach and offer their own perspectives on situations, cry and laugh together, and drink wine.
Mary and Rose, 227 (R.I.P Alaina Reed Hall)
I grew up watching reruns of 227 on TV Land and always admired the sincerity of Mary and Rose's friendship. Mary and Rose shared a common bond: they looooved to gossip! The two would sit on the front stoop of 227 all day gossiping about tenants and neighbors. They were supportive of each other, agreeing to disagree on many occasions; this was shown in an episode where Rose had to decide if she would spend a weekend in New York City with a guy she had only been dating for a week. Mary's conservative views on the matter were made known. She felt that Rose would ruin the relationship if she became intimate with the guy too soon. Mary continued to press the matter, until Rose had had enough. She told Mary she was going to New York with or without her support. Ultimately, Mary tells Rose she is supportive of her decision and apologizes for being a "prune."
Florida and Willona, Good Times
Finding someone to trust while living in Chicago's most crime-infested housing projects Cabrini Green was hard to come by, but Florida and Willona could count on each other. The high school friends shared more good times than bad with each other. Willona was a divorcee with no kids, while Florida was a devoted wife and mother of three. They lived across the hall from one another, and could always count on each other for a good laugh no matter the situation. When Florida's husband, James, died in a car accident, Willona was there as support. After Florida remarried and moved away, Willona checked on Florida's adult-children and stepped in as a minor parenting figure for the three. They were each other's steady tower of strength at all times.
[ALSO READ: 6 Worst Oscar Snubs for Black Films]
Moesha and Kim, Moesha
Everyone needs that sassy, carefree friend who can liven up any situation. That was Kim's role in the friendship between her and Moesha. They balanced each other out. Moesha pushed Kim to become more focused and pursue her goals, while Kim was there to pull Moesha's head out of her butt when she was being headstrong and stubborn. Though rumors circulated that the two ladies didn't get along off-screen, their friendship on-screen made for good TV.
Add your favorites in the comment section!