The Top 14 Positive Reality TV Stars (Yes, There's That Many)
We found 'em
Reality TV gets a bad rap all around because of the negativity portrayed in some of the more popular shows. However, there are a few positive people that easily get overlooked. Here's a list of the 14 reality TV stars worth watching.
Diann Valentine of "I Do Over" - Valentine is a wedding planner, interior designer and event planner who makes a living by seeing people's visions come to fruition. Her WEtv show is all about helping people recreate their wedding day that ended in disaster the first time around. But when she's not doing TV, she's hard at work on her business.
[ALSO READ: Top 3 Reality TV Meltdowns]
Kita & Mo of "The T.O. Show" - Kita Williams and Monique Jackson are sassy and full of attitude but they're both driven and they get their work done. They are the masterminds behind "The T.O. Show" and call the shots for production. They also launched their own hair care line called "Define Your Pretty," in conjunction with their non-profit of the same name for the purpose of building young women and girls' self-esteem.
Tia and Tamera Mowry of "Tia and Tamera" - They've been acting since childhood and still have successful careers. It's nice to be invited into each of their personal lives so that viewers can see that they're simply down-to-earth family women.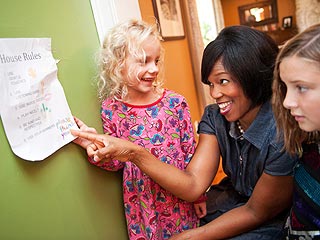 Deborah Tillman of "America's Super Nanny" - The early childhood education expert helps to make sure people's unruly children learn order and how to be functional human beings. She's firm and effective in her approach to help families find balance and peace.
June Ambrose of "Styled by June" - The iconic stylist and image consultant has worked with a diverse client list ranging from Jay-Z to Kelly Ripa. She has expanded her brand to books and now television where fans got to see the behind the scenes work put into the "Juniverse."
[ALSO READ: 10 Ways to Embarrass Mom on TV]
La La Anthony of "La La's Full Court Life" - The busy mother, wife and career woman always finds time to for her man and her little boy, even when the demands of her unpredictable career kick in.
Rasheeda of "Love & Hip-Hop: Atlanta" - She's the only married woman on the show, and she's actually in a functional relationship. It's sweet watching her and her husband work together for the sake of their family business. Despite their sometimes bickering, it's obvious that they love each other.