Curly Girl Collective Sparks Educational Revolution, One Head at a Time
With communal learning around natural hair, Curly Girl Collective is a model for Black communities, organizations.
In spring of last year at Chelsea Modern in Manhattan, Tracey Coleman stood in front of dozens of women to talk about the beginnings of the natural hair bonding and networking organization, Curly Girl Collective. Frizzy strands of her afro looked as if she'd been dancing or -- as would have been more likely -- as if other women had been running curious, manicured fingers through her curls. It was a seemingly endless email chain between friends, she explained, that spurred the idea to host events for natural-haired women. The friends -- who stretched across the U.S. and parts of Africa and Europe -- helped each other troubleshoot issues and give advice.
"We did that all day, everyday, for weeks," Coleman said at the event, titled Collective Expressions: A Celebration of Textured Beauty. Later she alluded to the volume of questions women have when they cut all their chemically-altered hair off, or transition. "We wanted to find, to connect more people together in a larger setting, hence this event." And then she waved her hand like a fairy godmother.
[Also Read: Obama Launches Education Contest]
In one area of the packed room, a dry erase board with block letters that read "I love my hair because," drove women to give their testimonials; there were no questions this time. Only affirmations. The transition, so to speak, of the Collective as an email list for questions and answers to a full-fledged network of young women in direct contact with each other, in many ways illustrates natural hair's increased popularity in the past 10 years.
But perhaps the most significant component of the cultural revolution is a more subtle study in socio-anthropological behavior. What the organization embraces, and what we are witnessing across the ever-expanding spectrum of natural hair, is the democratization of education and learning. For women who straightened and chemically altered their hair since childhood, the prospect of wearing one's natural look in adulthood can be a daunting one. That's partially why CGC's model mirrors the manifesto of Skillshare, the New York-based company that allows anyone to sign up to teach almost anything to anyone who wants to learn it. Its manifesto,"The future belongs to the curious," means this communal-based education -- not traditional institutions -- will eventually change the way the world learns.
[Also Read: Black Hairstyling Leads To Disease]
Sites like Nappturality, Curly Nikki and Black Girl With Long Hair offer free information and CGC's events offer free tutorials and samples to help women on their journey.
What do black women know that other black institutions and communities can learn from?
"For years, a large percentage of women have shied away from the idea of natural hair," public relations director Charisse Higgins, part of a team seeking to expand CGC's offerings, programs and corporate sponsorships. "To date, society has still not fully embraced natural black hair. The media has worked its hands into shaping what they believe beautiful is. CGC plans to dispel that stigma [because] celebration of natural hair is at the forefront."
Compelled Collectively
Six women -- Higgins, Coleman, Gia Lowe, Simone Mair, Melody Henderson and Julienne Brown -- started Curly Girl Collective. For Brown, natural hair wasn't an easy sell. Her awakening came when she saw natural styles her friends were wearing that she liked.
"It's easier to adjust to your hair when you know what it takes," Brown says, adding that for some women, the temptation to go back to a relaxer is too great. "There's a huge YouTube community, there are bloggers that share regimens, everyday women documenting their journeys. It's how you know what to do to help women get through those days to get them off the ledge."
CGC now reaches over 8,000 women through its network. "The fear is you don't know what it will look like," Brown says. "I was conditioned that every 4-6 weeks I would go to the Dominicans to get a wrap. I was dependent on a chemical to be acceptable in the workplace, to peers, to men. That was how I identified beauty."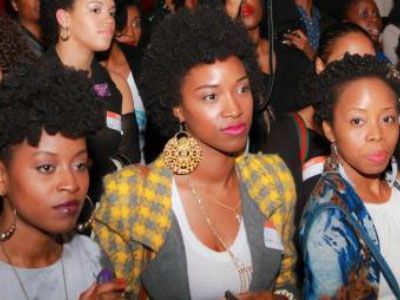 A Political Consideration?
Whereas afros and the natural look carried with them something of a socio-political statement in the 60's and 70's, most natural-haired black women today enjoy a far more jovial and communal hair experience. You could argue this shift reflects elevation within the social strata, that an embrace of one's natural beauty and a rejection of the stigma associated with changing one's appearance to be more acceptable is a political one within itself. Higgins agrees. But she also calls it fun.
"These days, we'd like to think that the decision to wear our hair natural, relaxed, or in a weave is about the freedom of choice, not a political statement," Higgins says. "But when certain hairstyles can still prevent women from reaching the top of the corporate ladder -- you'd be hard-pressed to find a high-ranking politician with dreadlocks -- we can't help but think we've still got a long way to go."
Christine Sanders, a D.C.-based public relations professional who went natural three years ago, says it's not a political statement for 90 percent of the women who do it. "Before I cut it off I would ask women whose hair I liked what products they used," she says. "It's a difficult process women are really attached to their hair and for some it can be a hard adjustment."
[Also Read: Oprah Buys Father's Barbershop]
Inclusion (for men, too)
In late summer/early fall, CGC will host an panel comprised of relationship bloggers. The idea, the organization says, it to allow men will have a platform to talk openly about natural hair and other related topics. Organizers say it's in keeping with their philosophy that ideas and opinions be shared by women and men alike.
"You'll be surprised to see how many of our friends and acquaintances have become experts on their own natural hair and look fabulous while rocking it," Higgins says. "That's the beauty of our community. Women are willing to help and be supportive. It was nerve-racking for many of us to start this journey. It still isn't the norm, but feeling comfortable and beautiful in your own skin definitely feels empowering and should be celebrated, and CGC provides that platform through its events.
"Our goal isn't to force women into 'going natural' or to change their beauty regimen to meet our messaging, but we want to celebrate women who may have otherwise felt ignored, offer a space that allows these women to interact and to educate them when possible."