Hip Hop Grows Up And Takes Care of Its Kids
Good news, fatherhood is starting to look cool.
Twenty years ago, you would have had a hard time finding a hip-hop song giving props to a good dad. To let most rappers tell it, there was no such thing.
Ed O.G. & Da Bulldogs classic "Be A Father To Your Child" had to remind guys to take care of their children...
While songs like 2Pac's "Papa'z Song" spoke for a generation of young black men who had filled their void of a father with anger and resentment...
Even the few times that a dad did get some good words spoken about him, it was to a stepdad because the "biological didn't bother."
[Also Read: Shawty Lo, His Baby Mamas And Who We Should Really Be Mad At]
And if it wasn't artists angry at their dads for leaving, it was artists claiming that every other woman they knew were setting traps to get pregnant or ones complaining about "baby mama drama." All in all, fatherhood didn't look as good as the partying and opulence that so many rap songs promoted.
Even the Fresh Prince wasn't safe...
But over the last few years, the idea of being a dad, a good one at that, has grown to be pretty popular in both the music and the imagery in hip-hop. This week, to ring in the new year, rapper Kanye joyfully announced the pregnancy of girlfriend, Kim Kardashian, during a concert. But the trend toward promoting fatherhood has been coming on for awhile.
Rapper The Game, despite his bipolar antics, has always included his son in his career whether it was him posing on one of his album covers, or taking a brief hiatus from performing to raise his son.
This time last year Jay-Z, the same guy who rapped "Big Pimpin'" and "Is That Your Chick?" became a father for the first time when his wife, Beyoncé, gave birth to their daughter, Blue Ivy.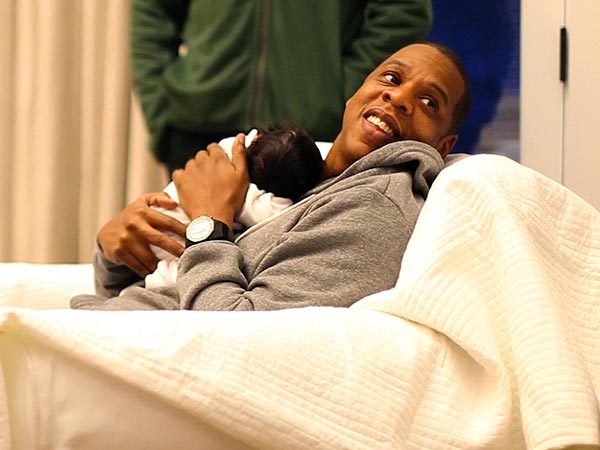 For a moment, anybody who identified with the hip-hop generation felt as if they were a father, too, as they saw the man who once rapped about leaving used condoms in Nas' child's baby seat, grow up to be a man with a daughter himself.
Later on that same year, we saw Wiz Khalifa pose on the cover of XXL magazine with his pregnant fiancee, Amber Rose.
At the end of 2012, Big K.R.I.T. dropped a video for his audio Father's Day gift, "Rich Dad, Poor Dad."
That's a complete 180 from "Papa'z Song."
With hip-hop approaching age 40, it's natural that more positive images of fatherhood be promoted. Snoop Dogg and P. Diddy have both made headlines for being proud fathers of kids who have both received football scholarships from UCLA. With Ice Cube letting his sons be the opening acts for his concerts, and E-40 helping his son build a record label that he is now signed to, the image of a dad in hip-hop is getting a much needed makeover.
With recent reports saying that 72 percent black children are raised in single-parent households, more positive imagery can hopefully drive more men to be better fathers instead of being deadbeat dads or just another "baby daddy."
[SUBSCRIBE TO LOOP 21 RSS FEED]