Kel Mitchell Is Still 'All That'... And More
The 'Good Burger' star is adding writing and directing to his menu
Last year, you may have noticed, Nickelodeon (specifically Teen Nick) started re-airing a lot of their popular programming from the 1990s. Among '90s favorites like "Hey Arnold!" and "Ren & Stimpy," shows like "All That" and "Kenan & Kel" also made the rotation. Kenan Thompson and Kel Mitchell were some of the network's biggest stars, which earned them the spinoff movie, "Good Burger," based on the popular sketch from "All That."
While we know what Thompson has been up to with his starring role on "Saturday Night Live" and his recent portrayal of Fat Albert on film, little did we know that Kel Mitchell has been working just as hard. (Did you know he was the voice for T-Bone on PBS' "Clifford the Big Red Dog" and Ant on the Cartoon Network's "Pink Panther and Pals"?).
Mitchell recently hooked up with Nickelodeon once again for the new animated series "Wild Grinders" on NickToons along with another animated series on DisneyXD called "Motorcity." In addition, the film that he wrote and starred in last year, "Dance Fu" (directed by Cedric the Entertainer), just hit Netflix last month.
Loop 21 caught up with Mitchell to talk about the new animated shows, "Dance Fu," his upcoming film about bullying and if there's a possibility of a reunion project with Thompson in the near future ("Good Burger: The Ownerz?").
[SUBSCRIBE TO LOOP 21 RSS FEED]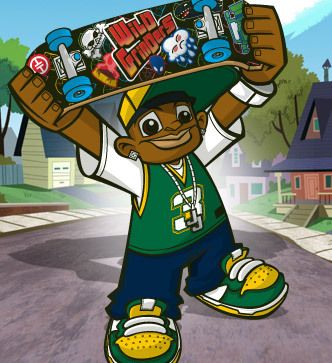 Loop 21: So what is "Wild Grinders" about?
Mitchell: Rob Drydek is an amazing guy and he came up with this amazing idea for a show about skateboarders. He had the toys out already, which I like to collect toys anyway and I already had some, and it was really cool when they asked me to be on the show. It's a cool world, it's like the world of skating and I play a character named Jay Jay. He's a germaphobe and he's also a skater. So that's really crazy for him because he's skating all around the neighborhood and there are all kinds of germs outside. But he keeps clean, calm and collective. But it's definitely a fun show, it's been a lot of fun. There's a lot of skating, if you love skateboarding, if you love comedy, "Wild Grinders" is definitely for you.
Loop 21: Do you skateboard in real life or ever tried to get your Lil Wayne on?
Mitchell: Yeah man, I used to skateboard when I was younger. I loved Tony Hawk and Christian Hosoi, also a big fan of Rob as well. I loved to skate, still now, even, I jump on a skateboard every now and then. I actually went up to the Fantasy Factory with Rob and hung out over there and got on the skateboards.
Loop 21: Is this your first project with Nickelodeon since the "All That" and "Kenan & Kel" days?
Mitchell: Yeah, actually it is! And it's really cool to be back home with those guys, I mean, they really understand kid entertainment and it's fun to be back there. It's like a family over there. They know what they're doing and they got a winner with "Wild Grinders."
Loop 21: One thing I noticed about you is that you embrace your early work as a child actor with Nickelodeon while a lot of other actors like to shun their really early work. Why is that important to you?
Mitchell: For me man, I love the fact that people grew up on it. I go somewhere now and people are like, "Hey, it's the Good Burger guy! Can you say, 'Welcome to Good Burger'?" And I like to do it for them. If it adds a little nostalgia for them or if they grew up on it and it's fun for them to see me do it, I'll do it. I don't want to be a letdown and be like "Nah! I don't wanna do that!" So I go ahead and do it for them and have fun. You know, I enjoyed playing those characters, and I enjoy that people still love those characters and when they see me they like me to do it. So it's very humbling to me, so I have no problem with it. I don't know why some actors hate doing stuff from their past. But it's cool. It's something that you're known for.
Loop 21: Will there ever be a project or reunion with Kenan Thompson?
Mitchell: We have to talk about it but I think it could definitely happen. With Nickelodeon bringing the shows back with "The 90's Are All That" and how successful it's been, that's like been the number one question. I have no problem with it; I just have to talk to Kenan about it. I think that'd be awesome. He's in New York and I'm in L.A. so I haven't seen him in a while but his mother came to my wedding in January. So our mothers keep in contact more than we do, actually.
[Also Read: Kevin Hart Says He's Crossed Over]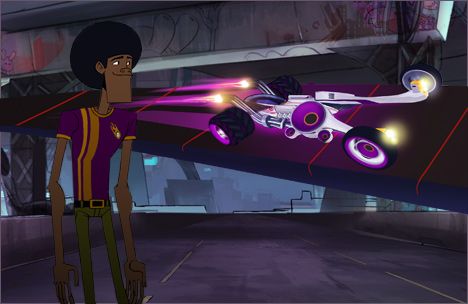 Loop 21: When you're out on the street, who do people confuse you with?
Mitchell: On the streets? Not too many. I mean, I get people who won't call me by my real name. Like sometimes they'll say, "There go Ed!, Yo, Ed!" Or "Hey, the Burger guy!" Like one time, I ran into Mike Tyson and he actually punched me in the arm and he said "Hey, Burger boy!" So people come up with their own little nicknames for me.
Loop 21: You also have another show, "Motorcity" on DisneyXD, what's that one about?
Mitchell: Yeah, it's kind of like "Terminator" and "Fast & Furious" in Detroit in the year 3000. So it's all that craziness in there with great cars and action. It's another action-packed cartoon. I think that's my new thing, I love watching cartoons, me and my wife love watching them and I love action. So "Wild Grinders" and "Motorcity" are great action shows. Plus the message. I think that's what's fun too because it has a message for kids, especially for "Wild Grinders," it has a message for kids at the end of every show.
Loop 21: You wrote and starred in "Dance Fu," directed by Cedric the Entertainer, last year. How was that experience?
Mitchell: Yeah, I wrote the film, it was a blast! Me, Tommy Davidson, Affion Crockett and Katerina Graham from "Vampire Diaries." It was fun, I was sitting there thinking I love kung-fu movies and then I love dance movies. So I was like "Hey, wouldn't it be cool to put those two things together?" So I came up with "Dance Fu," a story about a guy who can only fight when music is playing. It turned out really great; we had a blast filming it. Cedric was great, it was his directorial debut, but it was a lot of fun and has a lot of action as well. So it's action-packed and the action scenes are really cool, I really wanted to learn the kung-fu moves so I was actually doing real kung-fu moves with my stunt man. It was cool.
Loop 21: People, in general, don't realize how tough writing comedy is. How was it for you writing a comedy feature film?
Mitchell: Well, me being in the business for most of my life doing comedy, it came naturally. It was cool, it was a blessing. I was coming up with great jokes and then getting on the set with Cedric, it just made it funnier with the jokes he had. I think we were just really free about it and coming up with great ideas and it ultimately came out authentic.
Loop 21: I saw recently that you are also writing and now directing a new film this summer. What's the story with that?
Mitchell: Yeah! I have a short film called "She Is Not My Sister." It's a really, really cool film and I'm excited about it. It's a dramedy about bullying and forgiveness. There's a lot of bullying going around with teens and I wanted to put a message out there that it's wrong. It's also a faith-based film as well. "She Is Not My Sister" is the story of how a high school senior's life takes a turn for the worse when her father returns home from a business trip married to the mother of her high school arch enemy. So imagine that there's this kid that you can't stand and bullies you all the time and now that bully's mom is married to your dad! So it's really, really, cool story with a great cast. We have Lana Giacose, Tristin Mays (Private, Gullah Gullah Island) Hector Luis Bustamante (Little Girl Lost, Hostage), Melissa De Sousa (Reed Between The Lines, The Best Man and Miss Congeniality) Avery Wadell (Road Trip, The New Guy) and screen newcomer Lloren Ziegler. We're really excited about this one; I think people are really going to enjoy it.
Loop 21: On your YouTube videos, you do a pretty funny job impersonating celebrities. You ever hear back from any of them?
Mitchell: I know I impersonated Usher awhile back and it was funny. He actually used one of my dance moves at his concerts. He thought it was hilarious. But people like it. My main thing is I always like to have fun when I impersonate people so I don't like to make it degrading or upset them. I think about them laughing along with it. I've been too busy to do one lately, but I'll definitely do another one.
Loop 21: You're pretty open about your Christian faith. Did you grow up in the church or is this a recent conversion?
Mitchell: It's definitely been a part of my life as far as like I've always known of Christ, now I have more of a relationship with Christ. It's a beautiful thing. I'm willing and obedient, praying in the spirit and I let everyone know that that's a good thing to do. It's a good way to get through life; I give him all the praise. So that's what it's about for me.
Loop 21: What is your ministry Save a Life about?
Mitchell: I speak at a lot of different churches, colleges, high schools and different youth groups. I work closely with my pastor at my church Spirit Food Christian Center with the youth as well. "Save a life" is a link on my website that introduces everyone who visits my page to the love of Christ. Check it out on my website www.KelMitchell.net. My faith in the word of God is what I apply to everything I do now. So with my film "She is Not My Sister," you'll see a message in there about following Christ and how that can help you with giving up bullying and learning to forgive others, because Jesus always shows forgiveness, you know what I mean? We have to be just like him. You'll get the message about Christ and you'll get to be entertained at the same time.