'About Damn Time': LeBron & the Top 6 Players It Took Forever to Win a Ring
Dr. J, the Admiral and the Glide took a long time to win, too
Ever since Sports Illustrated labeled LeBron James "The Chosen One" when he was still just a high school junior, the world has expected nothing short of greatness of him. For the most part, he's delivered.
He's won just about every NBA award imaginable including Rookie of the Year, All-Star, All-Star Game MVP, NBA Scoring Champion and NBA MVP (three times). But until last night, he had yet to win the one that mattered most, the NBA Champion.
After leading his Miami Heat to a 4-1 series victory over the Oklahoma City Thunder, "King James" finally put some of his critics to rest and won his first NBA Final after two failed attempts in 2007 and 2011.
When asked how it felt to win a championship after nine seasons, he simply said, "It's about damn time." LeBron isn't the only superstar who took a while to win his first championship. Take a look at this list of players who had to go down a long road before smelling the roses.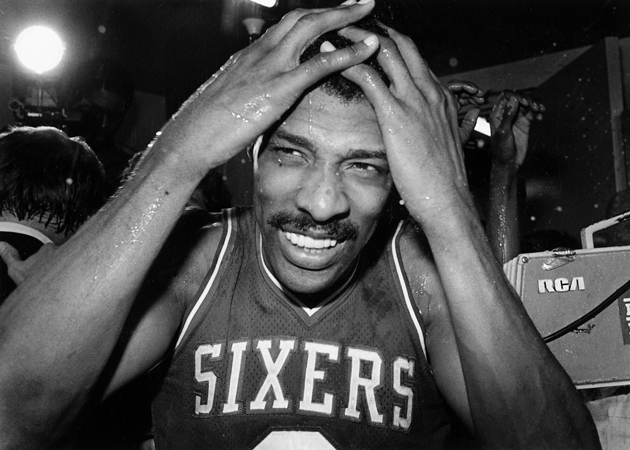 Julius "Dr. J" Erving
While ESPN would lead you to believe that LeBron is in the class of Magic, Jordan and Kobe, he isn't quite yet. If anything, he's more akin to Dr. J. Aside from sharing the same jersey number (and the dubious distinction of leaving a team in shambles after joining another), LeBron and the Doctor also share the fact that they were superstars that took a long time win a ring. Granted, Dr. J won two ABA Championships in the 70's. He didn't get his first NBA Champions until 1983, his 12th year as a pro basketball player. It would be Erving's first and last.
[ALSO READ: Why Aren't Black Athletes on Forbes' 'Most Influential'?]
David Robinson
Granted, David Robinson didn't enter the NBA with the same hype as LeBron, but he was a #1 overall NBA Draft pick in 1987 and top picks are usually expected to lead their teams to a championship. Robinson would have a spectacular career that included accolades like Rookie Of the Year, Defensive Player of the Year, NBA MVP and Scoring Champion by netting 71 points on the last game of the 1993-94 season. But it would take "The Admiral" 11 seasons to finally get to the NBA Finals after years of being blocked by his chief rivals Charles Barkley, Karl Malone and Hakeem Olajuwon. Just like LeBron, Robinson won his first title during a lockout shortened season (1998-99). He would go on to win a second title in 2003 and retired soon after.