Kwame Griffith: Leading the Charge for More Black Men in the Classroom
The Teach for America VP has success stories to prove that men can make a difference
When Kwame Griffith became a Teach for America corps member 10 years ago, he was met with challenges many teachers face when educating students of color: impoverished children entrenched in a world where they think they are not good enough.
Griffith's fourth and fifth graders, mostly of low-income backgrounds from the most rural areas of Houston, were reading at a kindergarten and first-grade level. Most of them never knew what it was like to have a stable teacher, as they had been taught by many substitutes over the years.
"My kids were incredibly far behind," said Griffith. "The lows were seeing the disengagement, the apathy."
Seeing potential in his students' ability to improve in the classroom, he aggressively worked with them in their reading, comprehension and math skills. Griffith exhausted his resources to ensure that his students were better prepared for a world where education is designed as the golden ticket to economic and professional prosperity.
Griffith said he was willing to do whatever it took to propel his students to a higher standard of achievement. And so, after many days spending extra time in the classroom, sacrificing his lunchtime and offering his home phone number to struggling students, Griffith was able to break through in a profound way. After two years of working with his students, they were performing at a fifth-grade level in all subjects except math, where they were performing at a sixth-grade level.
[ALSO READ: Save Black Boys From Education Failure]
But success stories such as this remain scarce when chalked against the reality blackboard of statistics.
In America, a country that boasts of its first president of African descent in the White House, children of color continue to lag behind their white counterparts in the classroom. According to a study released in March by Yale University, children of color, boys in particular, receive harsher treatment, lower grades and less attention in school. The report rehashed a yet-to-be healed wound in the country's educational system, one that has impelled organizations like Teach for America to do more in its efforts to help African American and Latino students succeed.
Part of that effort is to increase the amount of black teachers, males especially, in the classroom, which is why Griffith, who is now TFA's senior vice president of regional operations, and the organization's recruiters have been aggressively courting black college students throughout the country, with some of its top applicants coming from Spelman and Morehouse colleges, two historically black institutions in Atlanta, Ga. It is the organization's hope that more success stories like Griffith's become the paradigm for black students across the country.
Growing up along the poverty line, raised by a single mother in Buffalo, N.Y., Griffith said he knew all too well the socioeconomic conditions that can affect the proficiency of minority students in the classroom. But most would agree that Griffith was an exception, as he is a graduate of Cornell University, where, as a former recruiter, he increased the school's application rate by 70 percent.
But it is his exceptionalism that Griffith felt helped encourage his students to believe in their educational future.
"My kids [were] no different from me," he said.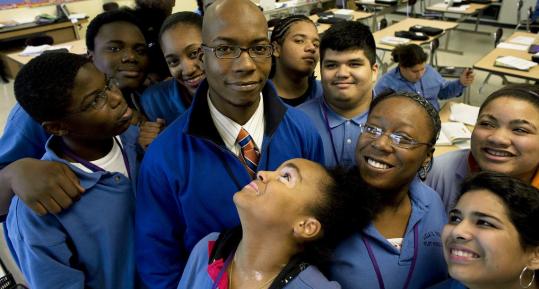 "The color of my skin and the zip code in which I grew up was not a determinate outcome."
Griffith said his students were able to connect with him on a racial and cultural level, and he, in turn, gave them the assurance that they, too, could find success amid the perverse environments many of them come from. Studies consistently show a correlation between students' performance in the classroom and the racial and cultural background of their teachers.
[ALSO READ: Is There A War On Higher Education?]
Having more black educators, especially males, is something TFA is working hard to continue, evidenced by its campus-level recruitment and conference visits with the Congressional Black Caucus and other organizations, where it helps lead the discussion of educational and personal development among children of color.
Griffith said he shares his personal story wherever he goes to remind people of the "ultimate version" of what is possible for children from disadvantaged backgrounds, and hopes that the trajectory of minority children will someday become a footnote of the past. Until then, Griffith and Teach for America continue to spread their success stories.
"The very way of life of our democracy falls apart if we don't have opportunities for all kids to have excellence and equity in education," Griffith said. "Either you're going to be part of the solution or complicit with the problem."